A canna-kitchen, also known as a cannabis kitchen, includes any facility or service that has to do with cooking with cannabis or eating cannabis-infused foods or beverages. This includes cannabis consumables, CBD and low THC consumables, commercial cannabis kitchens, cannabis cooking classes, pop-up cannabis dinners, and even cannabis caterers. As interest in the canna-kitchen industry grows, there are dozens of companies eager to enter this exciting new market. Here's everything you need to know about this burgeoning industry.
Cannabis Consumables on the Rise
From candy to beverages and everything in between, the cannabis consumables industry is rapidly growing. In fact, the market is estimated to hit $4.1 billion by 2022 according to research from ArcView, a cannabis research company. According to data from Headset, 35% of cannabis consumers purchased at least one cannabis consumable product in 2018. During the COVID-19 pandemic, the cannabis consumables market has emerged as a growth leader, with sales up by 28% as of April 2, 2020. During the week beginning March 9, 2020, the cannabis consumables category experienced a 10.6% increase in its share of the cannabis sales market compared to the prior week in Colorado, Washington, Nevada, and California, according to data from Headset, reported by Quartz.
The legality for consumables is on the rise. According to DISA, as of May 2020, 11 states, along with Washington, D.C., have fully legalized marijuana, including Alaska, California, Colorado, Illinois, Maine, Massachusetts, Michigan, Nevada, Oregon, Vermont, and Washington. As new legislation continues to pass, other states may eventually make marijuana use legal, as well. The popularity of cannabis consumables in the legal states has not gone unnoticed by companies looking to enter this exciting market.
Cannabis consumables are also quickly becoming the preferred choice over smoking, vaping, and other delivery methods. According to Visual Capitalist, consumables have already more than doubled in their share of the overall cannabis market since 2011, and that growth is expected to continue moving forward. Additionally, according to the ArcView research, 55 percent of consumers want to test out the waters with cannabis-infused food products, while 32 percent are interested in trying cannabis-infused beverages.
Among consumers of ingestible cannabis products, 43% prefer low-dose products, defined as products containing 10mg or less of THC per serving. According to research from BDS Analytics, 54% of ingestibles consumers in states in which marijuana is fully legal have chosen products based on their CBD content. Within this group of consumers, 58% prefer products that have a higher ratio of CBD to THC or no THC at all. New consumers are increasingly preferring consumables over other delivery methods because they can consume a small amount of these low THC products and "stack" their dose gradually until they achieve the desired effect. Sales of consumable cannabis products continue to grow across demographic groups, as well, with consumables accounting for a growing percentage of total cannabis sales among consumers in every generation:
Post Millennial: 8% of total cannabis sales
Millennial: 10% of total cannabis sales
Gen X: 12% of total cannabis sales
Baby Boomers: 13% of total cannabis sales
Silent Generation: 17% of total cannabis sales
In the midst of the coronavirus pandemic, Headset found that consumable cannabis products are accounting for an increasing portion of overall cannabis sales among Generation Z consumers, in particular, in Washington state in recent weeks:
March 23rd: 5.18% of total cannabis sales to Gen Z consumers
March 30th: 4.75% of total cannabis sales to Gen Z consumers
April 6th: 4.64% of total cannabis sales to Gen Z consumers
April 13th: 3.86% of total cannabis sales to Gen Z consumers
April 20th: 4.84% of total cannabis sales to Gen Z consumers
Many brands, both big and small, are betting on cannabis-infused consumables as being the future of the legal cannabis market. You can find dozens of cannabis-infused products on the market, including gummies, candies, desserts, mints, coffees, sparkling waters, and so much more. Every day, there are new companies entering the market with more innovative ideas.
Commercial Cannabis Kitchens Step In
With all of these cannabis consumables companies entering the market, they're in need of commercial kitchens to produce their products. It's a bigger challenge than it may initially appear because many commercial kitchens refuse to rent to companies that make cannabis-infused consumable products. This is often due to pre-disposed fears about cannabis or concerns about legality. Some smaller scale consumable companies can use home kitchens so long as they follow the food safety and food handling guidelines posted by their city's Department of Health. These guidelines require consumable product producers to have a state-issued food handler's certificate and follow specific regulations for a home kitchen. However, larger cannabis consumable companies can't possibly fulfill their demand in a home kitchen and require industrial-grade equipment to cook and manufacture their products.
Enter: commercial co-working kitchens. Companies, such as My Green Network, offer co-working space for entrepreneurial cannabis companies looking to expand, produce, and manufacture their cannabis consumables. My Green Network offers commercial kitchens with ovens, burners, industrial mixers, and all standard equipment. It also offers specialized equipment for cannabis consumable manufacturers, such as tempering machines and sealers, as well as bottling and packaging equipment. Because it's a co-working space, it's far less expensive for companies compared to purchasing their own equipment for producing and manufacturing their products. Plus, it offers locations right at the heart of bustling urban locations. These desirable locations help provide small companies with convenient access to their consumer base and opportunities to connect with their local consumers in new and exciting ways.
Some of these commercial cannabis kitchens even offer a community space for holding private cannabis cooking classes, cannabis pop up dinners, and more. These events can help bring in potential customers and increase awareness about their products.
Cannabis Catering Companies Bring Awareness to Cannabis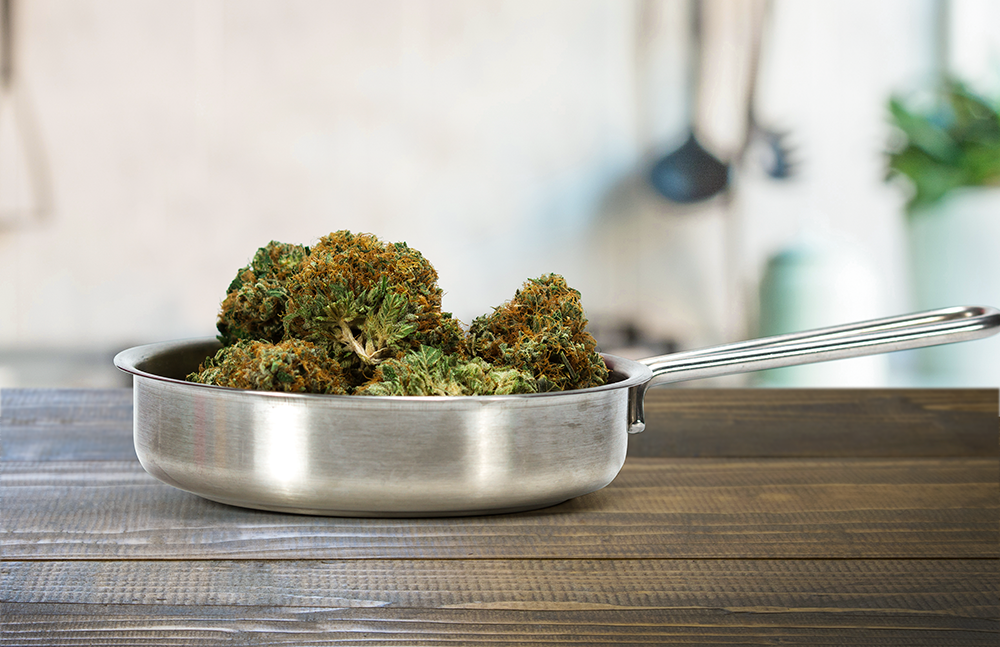 Even if they don't rent a co-working space, cannabis consumables companies can take advantage of these unique ways to market and bring awareness to their products. Cannabis catering companies can bring the cannabis or cannabis-infused products to both private and community events. These companies offer private cannabis cooking classes and cannabis pop up dinners and can service even large-scale events.
Cannabis Kitchen Events is one such company. It offers a mouth-watering menu, including delectable items such as cannabis-glazed pork loin, cannabis coq au vin, and poached apples with cannabis-rum cream. Not only do these events allow attendees to try delicious foods, but they're also educational. Cannabis catering leaves consumers educated and empowered to start using cannabis in their own cooking and serves to dispel the myths that are often associated with cannabis.
Canna-kitchens are a burgeoning industry that's only just beginning to get started. From cannabis consumables themselves to the companies that support them, the canna-kitchen concept is rapidly expanding. Where it goes from here, no one really can predict, but it really seems like the sky is the limit.