The perfect cannabis party recipe where nobody can take their hands off this delicious chocolate fountain. It's truly heaven!
Great for the Holidays or a stoners birthday where everybody gets high and can't stop digging in the chocolate because they have the munchies.
Put some strawberries or marshmallows on a stick and dig in. Or if you have some time on your hands, make some churro batter ahead of time and this will be the best weed edible you ever had.
Cannabis chocolate is fairly easy to make. You will need to make the cannabis butter ahead of time and melt it with chocolate. The fountain does the rest! This fountain contains 1400MG THC. Just a drizzle will get most people high. However, you can adjust the THC levels to however you like.
Chocolate sauce is super versatile. Whether you use it as a filling or a stand alone dessert, here's how to infuse it with a healthy dose of THC
Why a Chocolate Fondue Fountain?
Why the heck not? The visual appeal of seeing a flowing tower of velvety chocolate will stun any chocolate lover.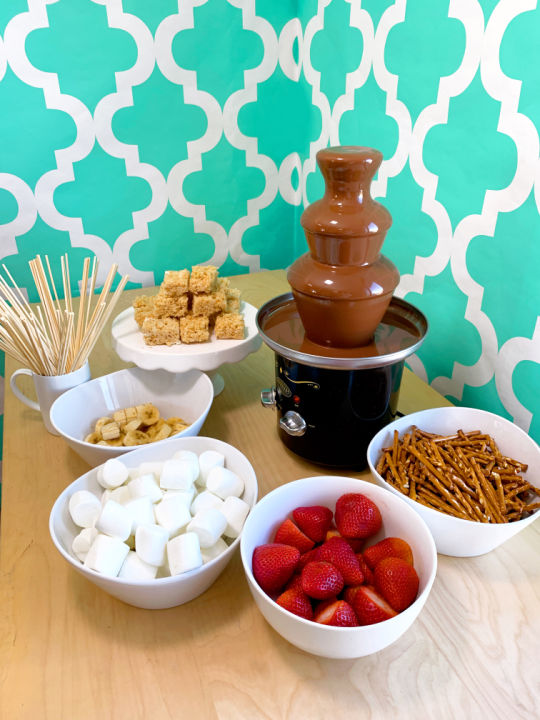 And it's fun thing to do and makes you feel like a kid again. There's something so satisfying about dipping a large, firm marshmallow into warm, dripping chocolate and then getting to taste it. And then getting to do it again and again.
We had a large chocolate fountain at our wedding and our guests flocked to it like kids in a candy store. It was the one thing that people fondly remembered about our wedding.
And now, chocolate fountains are available in smaller, more manageable sizes for home use.
Things to Know About Chocolate Fountains
I want to prepare you for the realities of owning your own chocolate fountain because there are things to be aware of.
1. Chocolate fountains can be loud.
The lower priced chocolate fountains like mine, can be loud. The pump is as loud as an older car running its motor (not a Tesla!).
So, it can be a little hard on your ears. But it didn't bother my kids.
If the loud sound is an issue, search for a higher quality, higher priced fountain and check reviews about the noise.
2. Chocolate fountains need to be properly leveled in order for it to flow evenly.
One thing that's surprising about chocolate fountains is that they must be leveled in order for them work correctly. So the fountains themselves have built in levelers at the feet.
It might take some practice to get the hang of it. So if it's your first time, give yourself some time to figure out how to level it.
3. You have to get the viscosity right for the chocolate to flow well.
When I did all semi-sweet chocolate with oil, the fountain flowed well. However, when I tried blending the chocolates while filming the video, it didn't flow as well.
It could have been that I let the melted chocolate sit too long while I set up my filming background and other things. Or maybe something changed when I blended different chocolates.
I added more oil, a little at a time and let the fountain flow for more than 20 minutes. Eventually, the problem was corrected and the chocolate flowed better.
4. Clean up can be an ordeal.
Once you're done with your chocolate fountain, you HAVE TO, have to clean it up right away! You can't let the chocolate sit there after turning off the motor and heat or it will harden up.
Chocolate will harden at room temperature and make clean up very difficult! So do yourself a favor and clean up the chocolate fountain immediately after you're done.
If you're not ready to clean up, then let the fountain keep running until you're ready.
5. You must melt the chocolate before adding it to the chocolate fountain.
FYI: Chocolate fountains do not melt chocolate. They are only built to keep the chocolate warm.
When I was a wedding videographer, I remember watching a large, professional chocolate fountain being set up. They poured in liquid chocolate into the fountain. And I have no idea how they melted the chocolate before and kept it warm until they arrived at the venue.
Melting chocolate is not difficult but it's an extra step to think of when planning to set up your chocolate fountain. I detail how to melt chocolate below.
And this brings me to the next question.
Cannabis Chocolate fountain
A recipe for cannabis infused chocolate to create a chocolate fountain all you're friends and guest can enjoy!
3 Cup Cooking chocolate
1/2 Cup Cannabis butter
1/4 Cup Canola oil
Couple Drops Vanilla essence
Add all of the ingredients mentioned. Put the bowl above a pan of boiling water and let the chocolate and cannabis butter melt. Keep stirring regularly. Do this step just before serving
When Chocolate melts, switch on the heat and rotator of your chocolate fountain
While the motor and heat are on, pour molten chocolate in the base dish of the chocolate fountain.
The fountain will do it's job now!
Use marshmallows on a stick or churros to dip in the cannabis chocolate fountain.
CANNABUTTER
This recipe requires the use of cannabutter (cannabis-infused butter), you can find out how to make some in our easy to follow cannabutter recipe – it is super easy and versatile, suited to most cannabis cooking.
CANNABIS CHOCOLATE SAUCE
Now that you 've made your cannabutter, here's how to make some delicious cannabis chocolate sauce to accompany all your favourite desserts.

INGREDIENTS
1 cup heavy cream.
2 tablespoons cannabutter.
120 grams of quality dark chocolate, broken into small pieces.
METHOD
Heat some water in a small saucepan till it reaches a steady simmer.
Place a heatproof bowl on top of the saucepan, allowing the steam from the water bath to heat it.
Place the cannabutter and cream into the bowl, stirring constantly to avoid burning.
Once the butter has melted, add in the chocolate Keep stirring until the chocolate has melted completely and you have a smooth mixture with no lumps.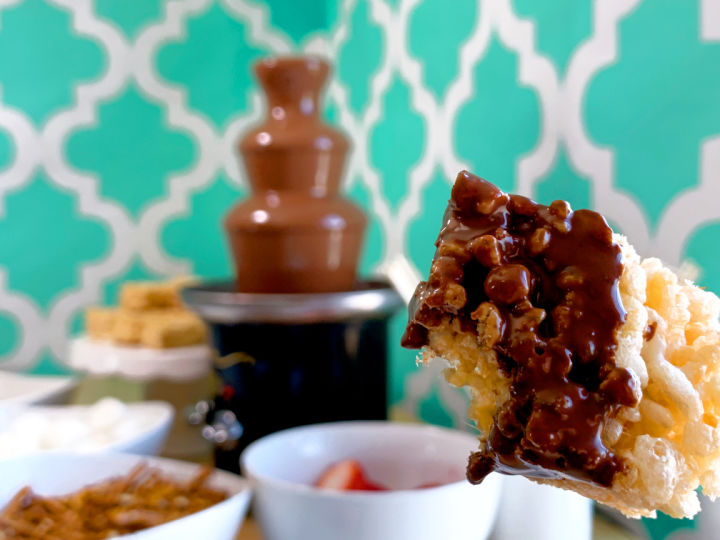 HOW TO USE CANNABIS CHOCOLATE SAUCE
Here are some delicious ways you can use your new cannabis chocolate sauce. Remember that the sauce will keep in the fridge for about a week.

1. CHOCOLATE-DIPPED STRAWBERRIES
Planning a romantic surprise for someone special? Dip some fresh strawberries in warm cannabis chocolate sauce and let them chill in the fridge.

2. RICH CHOC BANANA SMOOTHIES
Looking for a great way to cool down in the summer? Throw some milk, a banana, and a few tablespoons of your chocolate sauce in a blender and blend till smooth for a delicious, rich smoothie.

3. CHOCOLATE MOUSSE
Thin out your cannabis chocolate sauce with more cream and whip the mixture to make a scrumptious, fluffy chocolate mousse fit for the gods.

4. CHOCOLATE CANNA-FONDUE
Place your chocolate sauce in a fondue stove and dip in fresh pieces of fruit for a delicious, classy dessert.

5. CHOCOLATE COVERED NUTS
Planning a party or movie night? Dip a variety of nuts in your chocolate sauce and chill them in the fridge for an awesome light snack.

Whatever you decide, this super easy recipe will ensure you get to enjoy that chocolaty buzz! Just remember, cannabis edibles take a while to kick in, so consume responsibly!