If you're eager to experiment and try something new, then weed edibles are worthy of your attention. In this article, we provide you with a fast and easy THC lollipops recipe. So, if you wish to know how to make delicious weed lollipops to get high, then read the post to the end.
What should I know before cooking cannabis-infused candy?
If you're a newbie with any weed lollipops recipe then you should consider that the effect of edibles is quite different from smoking or vaping marijuana. The biggest disadvantage is that you're to wait for the effects much longer in comparison with smoking weed, for instance. Yet, when eating weed, the high lasts much longer compared to any other way of cannabis consumption.
Besides that, when it comes to edible lollipop recipes, you should check if all the needed ingredients are at your hand prior to starting cooking. Thus, the major of cannabis lollipop recipes require decarboxylated cannabis concentrate (CO2 extract, hash, etc.) and/or cannabis tincture. The latter is needed for this weed lollipops recipe by the way.
Mind that the process of cooking the cannabis tincture just like cannabutter, cannabis oil and flour is quite time-consuming. That's why it's strongly recommended to check this guide with the step-by-step instructions applied.
Homemade Marijuana Lollipops
The key to making cannabis infused lollipops is temperature. While this is a very simple edibles recipe, requiring only 5 ingredients, it's not something you can set and forget. You have to be present and keep a close eye on your thermometer throughout the process.
There's a thing in candy making called "Hard Crack Stage" and it simply means that you have to heat your organic sugar, corn syrup and water up to 300 degrees Fahrenheit before removing it from the heat source. Getting it to this temperature, makes your candy hard. Makes sense, right?
The tricky part with making marijuana infused lollipops is that you have to let it cool down to about 250 degrees Fehrenheit so you don't lose out on all of the incredible healing compounds in your cannabis tincture. This makes it a little messier to deal with since the liquid candy has already cooled and gets a bit sticky around this temperature.
You'll probably have little hard candy trails all over your molds and counter when all is said and done. The upside is that you can just wait until it hardens and eat it. I didn't have any issues with stubborn hard candy that I couldn't pry off, but you'll want to make sure that you work on non-stick surfaces. It all popped off and went right into my mouth. Which is a clean up process I can really get behind.
If you're worried about making a mess, just lay down a sheet of parchment paper underneath your candy or lollipop molds.
You'll have to make a cannabis tincture first or use decarboxylated hash (I haven't tried this yet, but will update this post as soon as I do). Be careful when using alcohol-based tincture and make sure you are far away from your heat source when stirring it into your candy mixture. Because… Booze + Heat = Fire.
DIY Organic Cannabis Hard Candy
This exact recipe can be used to make cannabis hard candy.
It's all in the mold. You can use your gummy bear molds from making Cannabis Gummies, or you can find molds specifically for hard candy making here. I prefer working with silicon since it's reusable and it's easy to remove your candy from silicon molds, but player's choice!
Just follow the steps exactly and skip the sticks
THC lollipops recipe: how much weed do you need?
It's difficult to calculate the potency of any homemade weed edibles. And weed lollipops are no exception. The strain and dosage of cannabis materials used for cannabis hard candies do matter. Here we are with our table with the optimal THC dosage suggested for cannabis lollipop recipes based on your user experience and the desired effects to get.
| | | |
| --- | --- | --- |
| User experience | Tolerance | Suggested dosage (THC) |
| Beginner | Very low | <5 mg |
| Some experience | Low | 6-10 mg |
| Experienced | Medium | 11-25 mg |
| More experienced | High | 26-80 mg |
| Expert | Very high | 80+ mg |
How to make weed lollipops?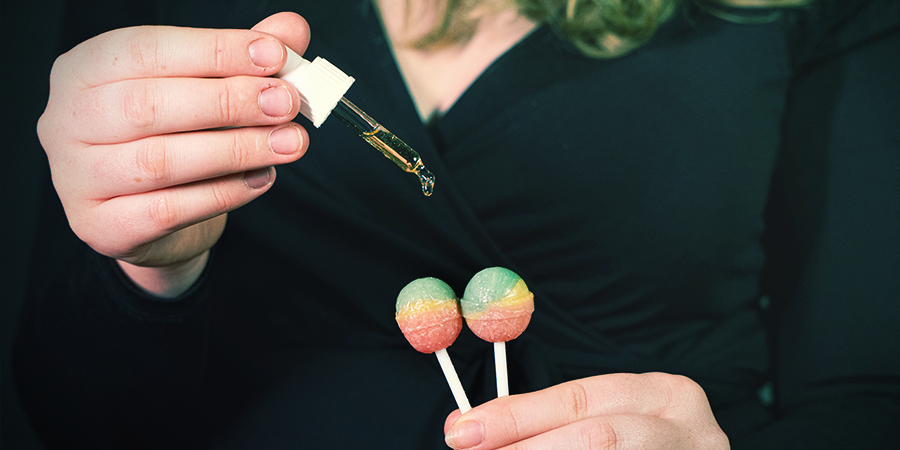 Being aware of the nuances, it's high time to get started with the yummy part of the guide — the recipe. So, let's cook your weed lollipops for getting high! Herewith, let's check out what ingredients and equipment are required to make marijuana-infused hard candies.
| | |
| --- | --- |
| Ingredients | Equipment |
| 120 ml or 1/2 cup of light corn syrup;235 ml or 1 cup of sugar;60 ml or 1/4 cup of filtered water;1 tablespoon of any flavor you wish;2-3 tablespoons of marijuana tincture (change the dosage of tincture depending on your experience and effects to get; be careful to avoid bad high). | Candy thermometer;Saucepan/pot;Sticks (optional);Mold. |
The 5-step marijuana lollipop recipe
Step 1. Take a saucepan/pot and place there water, syrup, and sugar. Mix that all and turn the heat to medium-high.
Step 2. Stir the ingredients constantly until the mixture becomes uniform and sugar is dissolved. Once it happens and the blend starts boiling, put the thermometer, and monitor until the temperature reaches 150°C.
Step 3. Once the temperature reaches the needed point, turn off the heat and take away the pot/saucepan with the mixture. Leave the thermometer in the pot/saucepan and wait until the temperature drops to 120°C.
Step 4. Once it happens, add the flavor along with the cannabis tincture/oil. Stir all that until the compounds combine.
Step 5. Take the molds and fill them with the blend. If you wish, you can put sticks to easily remove the candies from the forms. Besides that, lollipops with sticks are more comfortable to lick. Leave the lollipops to cool down. 15-20 minutes will be enough. That's all!