What says summer more than grilling? While you might have your burgers and chicken wings down pat, don't forget you'll need a little greenery to supplement your meal. This easy salad will help you eat those greens in more ways than one — it features a cannabis infused dressing for a light, relaxing buzz. You can get a pre-dosed version like Potli, or make your own.
This recipe is very forgiving — really you can substitute any vegetables that you have on hand and like to eat. Don't have little gems? Use romaine. Not an eggplant lover? Lose it. Here we substitute fennel for cucumber and mini bell peppers for tomatoes as they perform better on the grill. We also threw in a zucchini for good measure since it's the season. The key to making it taste Greek? A smattering of feta cheese and olives does the trick.
Grilled Greek-ish Salad with Infused Vinaigrette
Serves 4 as a small salad, 2 as a light entreé.
For the salad:
3 heads little gem lettuce, quartered lengthwise
½ small eggplant, sliced ¼ " thick, lengthwise
1 zucchini or yellow squash, sliced ¼ " thick, lengthwise
5 to 6 sweet mini bell peppers, keep them whole
1 bulb fennel, with the stems removed, quartered lengthwise
¼ cup pitted nicoise olives
¼ cup feta cheese
¼ cup regular olive oil, for grilling
6-7 mint leaves, torn or sliced thinly
For the vinaigrette:
¼ cup of cannabis-infused olive oil, like Potli
1 clove garlic, minced 
¼ tsp. dijon mustard 
2 tbsp. red wine vinegar
½ tsp. Dried oregano, or a sprinkle of fresh oregano if you have it
½ tsp. Kosher salt
3-4 grinds of fresh ground black pepper
For serving:
2 pita bread rounds, halved and brushed with olive oil and sprinkled with salt
Directions: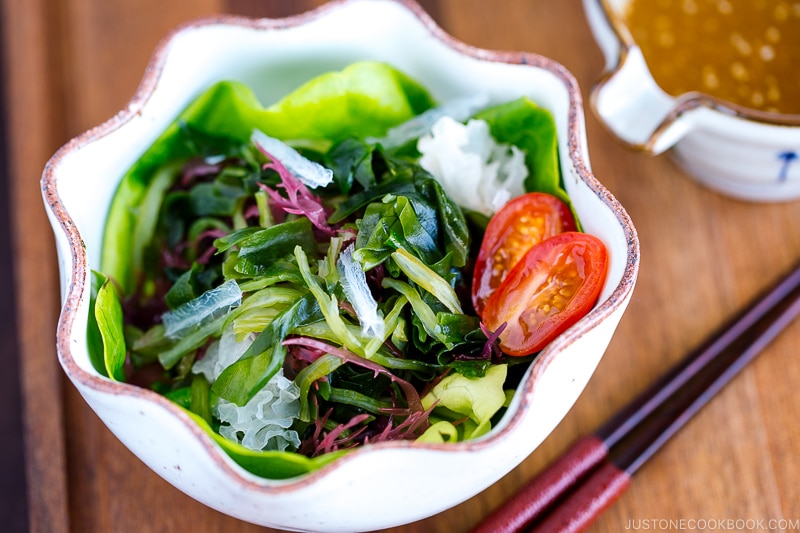 Preheat the grill to medium-high. 
Place your little gem lettuce on a platter or in a large, shallow bowl. 
Rub ¼ cup of your non-dosed olive oil over the eggplant, zucchini, peppers and fennel. Make sure the oil covers all parts of the vegetables, then sprinkle with salt. 
Make the vinaigrette. Whisk together the garlic, oregano, mustard, vinegar, salt and pepper in a small bowl. Still whisking, slowly add the cannabis-infused olive oil to make an emulsion.
Place the vegetables on the grill. Give them 4-5 minutes on the first side and then, depending on how strong the flame is, another 3-5 minutes on the other. If they are burning, turn the heat down. You want to get that grill mark but you don't want to incinerate your produce. Once done, remove from the grill and set aside to cool.
While vegetables are cooling, place the pita on the low heat on the grill. Give it about 2 minutes on each side, just to heat and crisp up. Set aside once done. 
Toss the vegetables with the vinaigrette and then layer on top of the little gems. 
Sprinkle with the feta and olives. Top off with the fresh mint. Set aside for half an hour to let the flavors meld. 
We have all heard this advice to eat more vegetables and I'm sure deep down we know that it is true. The question is, are we actually eating enough veggies? And how many of us are eating greens and weeds?
Most health agencies recommend at least 3-5 servings of vegetables per day. A recent study published by the CDC shows that overall, only 9% of the US population meet the daily recommendations for vegetables.
If you need to increase your vegetable consumption, leafy greens are a good place to start. They are superstars of nutrition and eating 2 cups of leafy greens will help you get your recommended servings. You can definitely manage that!
The following are excellent reasons to include leafy greens in your diet:
They contain a high amount of Vitamin K. Vitamin K is essential for the blood to clot and for bone strength and density. It's also rich in flavonoids, compounds that work as antioxidants and cancer-fighters.
They are rich in Vitamin A. Vitamin A aids in the growth and repair of body tissues and is also essential for the proper function of the immune system.
They are an excellent source of Vitamin E. As a potent antioxidant, Vitamin E protects the cell membrane of every cell in our body.
Some of my favorite leafy greens are:
Kale
Spinach
Swiss Chard
Dandelion Greens
You read that last one right. Dandelions, generally known as weeds, should be eaten! Dandelion greens have more vitamin A than any food except cod liver oil and beef liver. They are also rich in calcium, potassium, vitamin K and fiber. Dandelion aids digestion, decreases inflammation, helps with detoxification and eliminates water retention.
Many grocery stores offer cultivated dandelion greens during the spring, or you can grow and harvest your own. Every year I get so excited as my garden begins to come back to life after a long winter. The very first greens to start popping out of the dirt are my dandelions. Some people would quickly get out the shovel and dig then out or spray on the pesticides. Not me! I love watching the dandelions grow. I harvest them for salads, toss some leaves into my morning smoothie or layer them on a lettuce wrap sandwich. My son uses them to feed Smaug, his bearded dragon. If we can't keep up with their production, I wash them, let them dry, bag them and freeze them for future smoothies.
Green leafy veggies offer you a load of nutrition and if you're looking to save a buck or two, now is the time to check your garden and flower beds for some fresh dandelion greens. Just be certain that your dandelions do not come in contact with any fertilizers or pesticides and are away from any exhaust fumes.
This salad is packed with greens and will help you bid farewell to winter and welcome spring with open arms. With the combo of nutrient-dense leafy greens and a sweet and tangy dressing, your taste buds will have a party.